Product &
Service
Product & Service:
Thaicheer is the manufacturer of Powder Metallurgy to produce various kinds of component parts use for Sewing Machine, Automotive, Compressor, Appliance and other spare parts such as brake, gear, piston, valve, rod guide, bushing, shock absorber, balance weight, spacer etc.
The Sintering part continues to adapt and grow for many kinds of part with customer's requirement.
The main our customers are Denso, Janome, Dyna Metal, KYB, Showa Manufacturing, Hitachi, Fisher & Paykel Appliances, Toshiba, Brother, Kulthorn, Siam Compressor Industry (Mitsubishi group), and Panasonic. Sizing and oil impregnation
(if neccessary)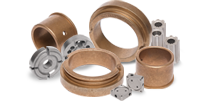 Benefit
We provide our Technology and Quality management through prevention, continuous improvement and commitment for quality excellence product:
Making high precision and complicated shapes in large quantities.
Minimal machining process requirement that it's fast and neat product.
Complex components with accurate tolerance
Reduce your cost with high quality product
High performance and quality with customer's expectations
If you have any project, please contact us to quote the best price for you.
Appliance

Automotive

Compressor

Sewing Machine